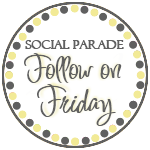 If you're stopping by from the Social Parade, leave a comment so that I can check out your blog and start following you!
Are you participating in The Ultimate Blog Party? If not, you don't know what you're missing!!!
If you're feeling lucky, you can enter to win $1,000 in the Boost Your Buzz Giveaway over at SimplyStacie.net!